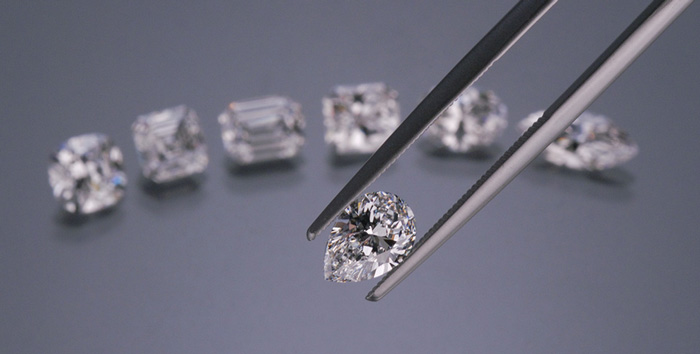 A Helpful Guide to the 4 C's of Diamonds
You might have heard the term the "4 C's" from time to time but not know what it means. The 4 C's (Cut, Clarity, Colour and Carat) is the globally accepted standard framework jewellers use to assess the quality of a diamond. The term was introduced in the early 1940s by the GIA (Gemology Institute of America).
The creation of the 4 C's revolutionised the jewel industry. It meant a diamond's quality could be communicated in a universal language anywhere in the world. Before the pneumonic device and framework were developed, there was no agreed-upon global standard for which diamonds could be judged.
Whether you're a sole trader looking for wholesale diamonds to resell or just a layperson keen to learn more about jewellery in general, it helps to have a working knowledge of the 4 C's and of what each parameter means. This article will take a look at the meaning of each "C" and the implication it could have when purchasing a diamond.
1 Cut
While it's important to consider the 4 C's holistically, if there was one C to prioritise in a purchase, it would be the cut. Although many people tend to think of the cut to mean the shape of a diamond, it actually refers to its direct beauty and brilliance and how it interacts with the light. More specifically, the cut refers to a diamond's quality of angles, proportions, facets and its visual effects. Cuts are organised into three categories: shallow (flatter shape), ideal (round shape) and deep (pointy shape).
With a better cut, you can confidently sacrifice other elements of a diamond's appearance (less carat and clarity) and still walk away with an enviable piece.
2 Clarity
Clarity is a bit more straightforward and simply refers to how free mined diamonds are from blemishes or inclusions (irregularities). Clarity grades range from FL (flawless) down to I2 (inclusions 2). Flaws are common and unique, so where your particular piece lands on the clarity chart will vary.
3 Colour
The colour of diamonds can range from D (most colourless) to Z (noticeable brown or yellow tint). This is where things can get tricky, as a piece that looks almost identical in colour to another can vary in price drastically. This is because the colour differences are impossible to see with the naked eye. Another important consideration with colour is ensuring that any tinting present doesn't interfere with white and coloured light reflections, so the piece appears colourless in relation to its setting. To simplify things, get the advice of an expert. This will be especially useful if you're buying wholesale diamonds, as the colour gradings will likely vary to some degree.
4 Carat
When you hear the term carat in relation to jewellery, you might think it refers to the size of the stone, meaning a larger carat value means a bigger diamond. However, carat actually refers to the overall weight of a diamond. This means that depending on how two diamonds are cut, if they're both one-carat diamonds, they can actually be quite different in size. Carat weight is definitely a factor to consider, but the overall brilliance, shape and aesthetic qualities of a piece should be prioritised higher.